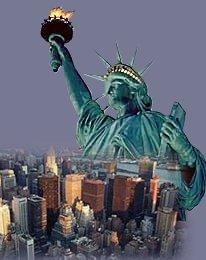 Culture, diversity, size, speed and energy of this place can even overwhelm residents here at times! Plan your New York vacation well - it's better to carefully select beforehand a few must-sees, and wrap them around a nice dinner to round your day out.
Let's look at some basic need to know information first, and then some fun things to do on a New York romantic weekend getaway.
Traveling to New York is quite easy, as many major airlines fly into New York. If you're looking for cheap flights to New York, check out our links page under Airlines.
New York City has 2 major airports, John F. Kennedy International and La Guardia. A third major airport is just across the Hudson River in Newark, New Jersey. All 3 have frequent shuttle bus and taxi service.
At Kennedy Airport, you can access the subway into Manhattan by first getting on the Long Term Parking Lot Bus which makes a stop at the Howard Beach Subway Station. Take the A-Train from there into town.
How To Get Around New York
If you're thinking about renting a car as part of a New York vacation package, can I just say one thing: DON'T! It's not worth the cost, traffic, parking problems and general hassle. The best way to get around this city are: Subway, Taxi, Bus and walking.

The subway is fast, convenient, and the lines and stations are numerous. Even though the subway map looks like a plate of spaghetti, it's all color-coded, so you'll understand it pretty quick. And it's generally very safe – just use a little common sense, like not flashing around wallets and purses with large amounts of money.
The MetroCard is a good deal and gives you unlimited rides on the whole underground and bus system for $7. Buy them at vending machines and corner stores. If you're out very late you may be more comfortable with a taxi home, which are easy to find and quite reliable.
One of the best things about New York is that it's a superb walking city! Many great sights, shops and restaurants in Manhattan can be found on foot.

Best Areas to Stay in New York holiday guide
On a short New York vacation package, the most popular areas with the best choices are in: Midtown Manhattan including Times Square, Upper West Side, and Upper East Side.
Chelsea and Gramercy Park are also possibilities, loaded with cafes, shops and art galleries. Lower Manhattan is the financial district and there's not much happening after dark. Soho and Greenwich Village tend to be more towards the funky and alternative side.
Romantic Things to Do and See
Too many to list them all, so here are just a few...
A romantic horse-drawn carriage ride through Central Park is a wonderful cozy way to see this magical part of New York. Cost is approx $35. You can find them on the southeast corner of the park at Central Park West (59th St.) between 5th & 6th Ave. Don't forget to ask for a blanket if it's cold!
If it's winter, skate romantically arm in arm on the ice rink at Rockefeller Center.
Wait till dark, and then see the neon lights and huge billboards of Times Square. You're close to Broadway, where you can catch a first run play or musical. Many fine places to dine here too.
A great romantic tip are the views of the city while you're holding hands: sky high from the observation deck of the Empire State Building, or from a casual walk across the Brooklyn Bridge – one of the most gorgeous structures in the city.
The Staten Island Ferry is one of travel's greatest FREE deals! Make your way down to Battery Park, and set sail for the ride past the Statue Of Liberty and see awesome views of Lower Manhattan. Pack a little lunch and find a quiet corner of the boat for a romantic picnic at sea!
One of the most romantic inns in NYC... the West 11th Townhouse.See it here.
Just spend a few hours wandering through the tree-lined streets of Greenwich Village, a neighborhood full of galleries, boutiques, cafes, restaurants, and all sorts of unique street culture.
Love classical music? Lincoln Center is home to the famous New York Philharmonic. Carnegie Hall also has great music.
There are two museums well worth including in your New York vacation package – the Metropolitan Museum of Art and the Guggenheim. You'll only scrape the surface on an afternoon or a day, but that saves some for next time…