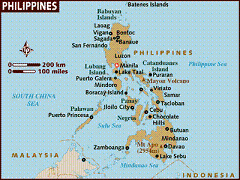 The Philippines holiday guidehas really taken off as a tourist destination in the last few years. Not only is it easy to get around with a small navy of ferries, shuttle boats and water taxis but English is widely spoken and there are an astonishing amount of different things to do.
Whatever you want, from relaxing on the beach to a quiet mountain retreat, the Philippines has it all. Divided into three main island groups: Visayas, Mindanao and, home to Manilla, the capital, Luzon. All have their own attractions.
The best place for just relaxing on the beach is, arguably, Boracay Island, near Luzon island. With long white beaches and clear waters it is ideal for snorkelling, scuba diving and relaxing. In the south-east, in the Visayas islands, lies Cebu, which is internationally known for its suitability for watersports.
If a busy and cosmopolitan city is more up your street for some of your holiday then you cant go far wrong with Manilla. Taking its name from the Nilad, a white-flowered mangrove plant, it has a long and turbulent past by any standards. Manilla has risen above all its past troubles and is now a thouroughly modern city where the past is still preserved and visible.
Places to see
Manila
Set on Manila Bay, the capital of the Philippines is divided into different districts, each with something to offer. They are linked by the fantastically painted, but less fantastically maintained 'Jeepney' pick-up trucks that ferry the locals from place to place. Many people stay for just a day or so before moving on, but there is plenty to explore in the city.
Remnants of the colonial Spanish era are found right in the heart of Manila in the 'Walled City', Intramuros, which is one of the best-preserved colonial city centres. Dungeons and old churches share space with art galleries, theatres, and a nature park. Nearby Rizal Park is a great place to visit first thing in the morning to see the locals doing their Tai Chi or practising the traditional martial art of arnis de mano.
Manila is also home to Malacanang Palace, the official residence of the highest chief executive of the country and one of the most historic structures in the Philippines. Along the northern bank of the historic Pasig River is Chinatown, a symbol of the long history of Chinese presence. Makati is the business district of the city, but it is also home to some of the grandest five-star hotels and largest shopping centres. Malate and Ermita districts are also popular for their variety of restaurants, clubs, bars, cafes, art and antique shops.
Cebu
Even before the Spanish colonialists arrived here in the 16th century, trade with the Chinese flourished in this province and many Chinese and Spanish landmarks remain. The magnificent Basilica Minore del Santo Nino was built in 1575 and stands close to Magellan's Cross, which apparently contains splinters from a cross he planted on the shores of Cebu on his first visit in 1521. The Taoist temple, located in a residential area known as Beverly Hills, is a symbol of the city's large and influential ethnic Chinese population. Across a road bridge from the airport is Mactan Island, a 15 square kilometre island made entirely of coral reef. Once a quiet fishing community, it is now home to some of the best beach resorts in the Philippines.
Shangri-La Mactan Island Resort and Spa, Cebu
Shangri-La's Mactan Island Resort is Cebu's most exclusive deluxe resort and provides its guests with the ultimate tropical paradise experience. An idyllic resort with a beautiful private beach, it offers an exciting range of recreation activities and superb cuisine. Every guestroom blends tropical decor with modern amenities, and private balconies provide panoramic views of the Visayan Sea.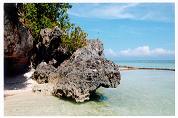 Welcome to Bohol, God's Little Paradise, as it is sometimes called by the Boholanos themselves. This is not fully unjustified, as the island is one of the most diverse and attractive destinations in the Philippines. Within its area of about 4200 square kilometers, it houses countless white sandy beaches, numerous historic churches and watchtowers, enchanting waterfalls and caves, and, unique in the world, its amazing and stunning Chocolate Hills.
Scenic Bohol casts an enigmatic charm drawn from the many archaic mementos spread throughout the oval-shaped island - from unique rock formations to a 45-million-year-old mammal species, from massive stone watchtowers built by the Spaniards in the 18th century. Surrounding the mainland are 73 other smaller offshore islands and islets whose palm-fringed coastlines are rimmed by white sand and sheltering coves. Serpentine coastal highways wind along unsullied beaches and rustic rivers where the tourist can stop at any point and jump in for a dip.
Bohol is famous for whale watching, river cruising, smallest primate-Tarsier, Sandugo Festival, beaches, scuba diving, mountain climbing, caving, cambuhat oyster farm (ecotourism activity), Bird watching
Town visits promise exciting cultural treats that include scheduled performances by the Teatro Bolanon, Dimiao Rondalla, Diwanag Dance Theater and the award-winning Loboc Children's Choir.