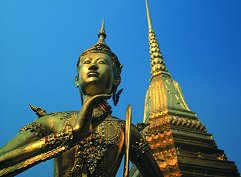 Over over six million foreigners fly into the country each year, Thailand has become Asia's primary holiday destination and is a useful and popular first stop on any overland travel through Southeast Asia. The influx of tourist money has played a significant part in the country's recent development, yet Thailand's cultural integrity remains largely unchanged.
In this country of fifty-three million people, over ninety percent are practising Theravada Buddhists, and King Bhumibol is a revered figure across his nation. Tiered temple rooftops and saffron-robed monks dominate every vista, and, though some cities and beach resorts are characterized by high-rises and neon lights, the typical Thai community is the traditional farming village: ninety percent of Thais still earn their living from the land.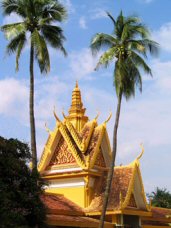 Most vacations start in Bangkok. Thailand's huge, noisy, polluted capital can be an overwhelming introduction to Southeast Asia, but there are traveller-oriented guesthouses here, and heaps of spectacular temples to visit on holiday. It's also the best place for arranging onward travel and visas for neighbouring countries. A popular side-trip from the city takes in the raft houses of Kanchanaburi, the infamous site of the Bridge over the River Kwai.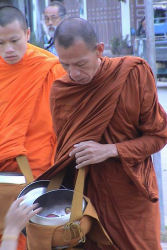 After Bangkok, many travel north, sometimes via the ancient capitals of Ayutthaya and Sukhothai, to the enjoyably laid-back city of Chiang Mai, where they organize treks to nearby hilltribe villages. There's tranquil countryside in bucketloads up in the northern highlands around Mae Hong Son and along the Mekong River in Thailand's northeast (Isaan), where you can stay in village guesthouses and hop across the border into Laos. The northeast is the least visited area of Thailand, but holds two fine ancient Khmer ruins at Phimai and Phanom Rung, and the country's most popular national park, Khao Yai.
After travel, trekking and rural relaxation, most visitors on holiday want to head for the beach - and Thailand's eastern and southern coasts are lined with gorgeous white-sand shores, aquamarine seas and kaleidoscopic reefs. The most popular of these are the east coast backpackers' resorts of Ko Samet and Ko Chang, the Gulf Coast islands of Ko Samui, Ko Pha Ngan and Ko Tao, and the Andaman coast idylls of Laem Phra Nang, Ko Phi Phi, Ko Lanta and Ko Tarutao.
The southern island of Phuket and the east coast resort of Pattaya are more expensive, package-tour holiday oriented spots. In the deep south, Thailand merges almost seamlessly with Malaysia, and there are plenty of border crossing points here; the city of Hat Yai in particular offers convenient long-distance bus and rail links to many Malaysian towns. Travel into Cambodia overland is not so easy, but there are two crossings currently open, Poipet and Trat.
Thailand holiday guide can be an extremely hot and soggy place. Its tropical climate is divided into three seasons: cool in November to February, hot in March to May, and rainy in June to October. The seasons are more extreme in the northern regions, where the dry heat can grow quite intense in late spring and the cool can become cold in the mountains. The rainy season is no detriment to travel in Thailand, as the rains can be cool and refreshing.
Thailand, Far East
Important Information