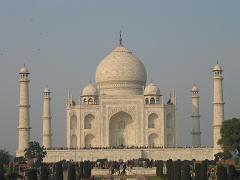 The subcontinent of India lies in southern Asia, between Pakistan, China and Nepal. To the north it is bordered by the world's highest mountain chain and the south is covered in tropical rain forests and bordered by beautiful beaches. India is a country of immense diversity - culturally as well as geographically. A huge number of religions, traditions and languages make up this vibrant and chaotic country.
Modern India is a place where contradiction and contrast co-exist. India has embraced technology whilst simultaneously cherishing the tested and traditional. Farmers can be found using ancient methods to earn their living, whilst minutes away state-of-the-art factories produce gleaming cutting-edge gadgets that are sold across the world. And it is this industrial development that has put India well and truly on the international map. But it's also a country where many things haven't changed for hundreds of years and certain parts seem strangely removed from the twenty-first century.
Two of the most popular visitor destinations in India are Kerala and Goa.
Kerala is located on the coast of southern India. It is renowned for its lush vegetation, tranquil beaches and breathtaking mountains. Kerala offers a rich and alluring culture that embraces many different religions and influences. This is an excellent destination for experiencing the real India in stunningly beautiful surroundings.
Goa, in comparison, has a more European feel. The invasion of the Portuguese in 1510 brought with it a Mediterranean influence that can still be seen today. Like Karala, the beaches and scenery are description-defyingly beautiful. Goa has everything the holidaymaker could want, with a healthy sprinkling of Indian exoticism and mystery.
Please note
In India the monsoon season generally runs from May-October. Please refer to the Useful Information section of this guide for weather patterns and travel advice.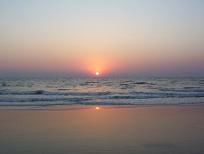 Both Goa and Kerala have abundant beaches. You can choose from developed beaches, with their facilities, restaurants and high level of maintenance, or deserted stretches of sandy paradise.
Baga Beach A small fishing seashore lined with thickets of shady palm trees that provides a stunning view against the playful sea waves
Anjuna Beach , known for its infamous full moon parties, lies 8km west of Mapusa. Since the 1970s, it has been on the top favourites list of tourists a hippy hangout. indian holidays.
Bambolim Beach , is small and clean and gloriously unspoilt.
Thirumullavaram Beach, Kollam This secluded beach is a beautiful picnic centre and has frequent bus connections to the town.