Welcome to the southern tip of Africa. Here, two great oceans meet, warm weather lasts most of the year, and big game roams just beyond the city lights.
This is where humanity began: our ancestors' traces are still evident in fossilised footprints 80 000 years old, and in the world's oldest rock paintings.
Today, South Africa is the powerhouse of Africa, the most advanced, broad-based economy on the continent, with infrastructure to match any first-world country.
Two-thirds of Africa's electricity is generated here. Forty percent of the phones are here. Twenty percent of the world's gold is mined here. And almost everyone who visits is astonished at how far a dollar, euro or pound will stretch. Welcome to the Republic of South Africa.
What's the weather like?
Summery, without being sweltering. In Johannesburg, the country's commercial capital, the weather is mild all year round, but can get cool at night. Durban, the biggest port, is hot and sometimes humid, a beach paradise. And in Cape Town, where travellers flock to admire one of the world's most spectacular settings, the weather is usually warm, though temperamental. If you're visiting from the Northern Hemisphere, just remember: when it's winter over there, it's summer over here. Bring sunglasses and sunscreen; leave the mackintosh at home. South African Holiday Guide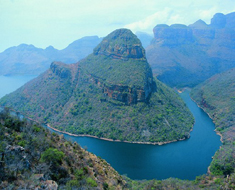 Will I get to see wild animals?
You won't have to go far to do so. An hour's drive from such urban jungles as Pretoria and Johannesburg, you can see lions, elephants, buffalo and hundreds more species in their natural environments.
One of the world's first wildlife conservation areas was South Africa's Kruger Park, more than a century old. Today it is part of a single broad conservation area that spans private and public game parks and stretches across national borders into neighbouring Mozambique and Zimbabwe.
There are other reasons for visiting South Africa too: like golden beaches, some of the world's best surf, spectacular scenery ranging from mountains to deserts, eco-systems found nowhere else in the world, an opportunity to experience African culture first-hand - and one of the least expensive holiday destinations you'll find.