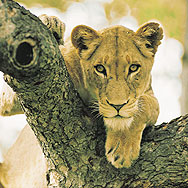 Safari Destinations Guide lets you see two of the most famous reserves in Kenya, the world renown Masai Mara with its superb wildlife and Lake Nakuru, famous for its huge flock of flamingos.
The joy of camping in Kenya is that it allows you to get off the beaten track and experience the wilderness. In the Masai Mara you will stay at a semi-permanent camp where everything is ready when you arrive. At Nakuru you stay at a local hotel because there are no camping facilities in the park.
The Swahili word "safari" means journey and over the years Kenya has become one of the most popular destinations for such a trip. Justifiably so, boasting diverse and beautiful landscapes and the most diverse collection of wild animals on the continent. Situated on Africa's east coast, Kenya straddles the equator and its eastern coast is lapped by the Indian Ocean. The Rift Valley and central highlands form the backbone of the country, and this is where Kenya's scenery is at its most spectacular.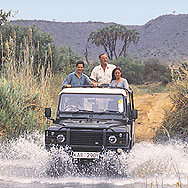 A short safari to the South of Kenya, visiting Amboseli with its excellent views of Kilimanjaro, and Tsavo West National Park. The safari ends in Mombasa from where you transfer to your hotel for a relaxing stay on the shores of the Indian Ocean.
You will stay in some of the best available lodges, situated in beautiful locations to give views out over the Savannah or surrounding countryside. Often you have the luxury of game viewing from the comfort of the lodges outdoor lounges while enjoying a cool drink. All lodges provide en-suite facilities and many have small swimming pools. Comfortable minibuses with guaranteed window seats are used on all trips and they are equipped with large roof hatches to ensure perfect game viewing and photographic conditions.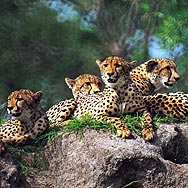 Western Kenya takes in the fertile fringes of Lake Victoria and some prime game parks. The vast, arid north-eastern region is where Kenya is at its wildest and in places almost untouched by the modern world. Kenya's flora and fauna defies easy description. The vast plains of the south are dotted with flat-topped acacia trees, thorn bushes and the distinctive bottle-shaped Baobab tree. On the rarified slopes of Mt Elgon and Mt Kenya, bamboo forests sprout and even higher up is the bizarre groundsel tree, with its huge cabbage-like flowers, and giant lobelias with long spikes. If you are more into fur and feathers, then head for the teeming game parks. Lions, buffalos, leopards, elephants and rhinos all cavort openly in at least two of the major parks. Endangered animals such as the black rhino are slowly making a comeback and sanctuaries for these creatures can be visited in Tsavo and Lake Nakuru national parks.